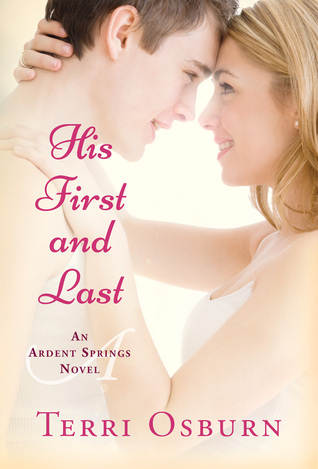 Hello everyone!! It is no secret that I really enjoyed
Terri Osburn's
Anchor Island Series
-which finished last year - and now I'm really excited to get to know the people of Anchor Springs in her new series.
The first book is called His First and Last and today I bring you an excerpt of it!! :D
Enjoy!
Exclusive Excerpt fro
m
His First and Last
"Do you want something to drink?"
"Not unless it's hot chocolate." Lorelei shivered again. "This blanket isn't helping." Spencer knew one way to warm her up, but he didn't think she'd be open to his idea. "Get over here," she said, holding the blanket open for him to crawl in with her. Spencer hesitated, trying to determine if she was setting him up for something. "Come on. I know you're a damn heater over there. Help a girl out."
He could help her out all right. Obeying the order, he scooted down the couch and put his arm around her shoulders as Lorelei settled the blanket around them both. "That's better," she sighed, cuddling in tight against his side and laying her head on his shoulder. When she dropped a kiss on his neck, Spencer pulled her in tighter. "Lorelei?" "Mm-hmm?" she purred.

Spencer gave the question real thought. There was still a lot of fragile ground between them. She wasn't offering a lifetime or, for all he knew, anything beyond one night. But when she threw a leg over his lap, his brain function faltered, and the feel of her warm body wrapped around him squelched any ability to protect himself from harm. This had been what he wanted from the moment he'd spotted Lorelei sitting on that airport bench. What he'd dreamed about for years before that.

"Did you come down here to seduce me?" Another kiss, this time on his collarbone. "Would that be a bad thing?" "Should I take your lack of argument as encouragement?" she asked, lifting off the couch and sliding across his lap until she was straddling him between her thighs.

"Yes," he said, the word coming out as a croak. Spencer cleared his throat. "I highly encourage you to keep doing what you're doing."
Title:
His First and Last
Release Date: April 21st!

April 21, 2015
Publisher: Montlake Romance
Genre: Contemporary Romance
At eighteen, Lorelei Pratchett couldn't wait to get out of her hometown. Twelve years later, her Hollywood dreams have fizzled and she's back—temporarily, she thinks. Though she throws herself into saving the old theater and starting a baking business, small towns have long memories, and Lorelei's wild past still haunts her. It doesn't help that her ex-boyfriend, Spencer Boyd, is even hotter, smarter, and more distracting than before.
The fiery Lorelei that Spencer knew years ago may have become closed off and cautious, but their chemistry hasn't faded one bit. Losing her a second time is unthinkable to him, yet Lorelei is convinced she doesn't belong in Ardent Springs. Somehow, Spencer needs to show her that everything she needs is right here: family, friendship, new beginnings…and a man who's never stopped loving her.
Warm, sexy, and laugh-out-loud funny,
His First and Last
is an irresistible story of first love and second chances.
Although born in the Ohio Valley, Amazon and
Wall Street Journal
bestselling author Terri Osburn found her true home between the covers of her favorite books. Classics like
The Wizard of Oz
and
Little Women
filled her childhood, and the genre of romance beckoned during her teen years. While Osburn went on to gain a degree in business administration, she couldn't shelve her love of love stories. In 2007, she put pen to paper to write her own. Just five years later, she was named a 2012 finalist for the Romance Writers of America's Golden Heart Award. The author of the Anchor Island contemporary romance series, Osburn resides in Virginia with her daughter, an assortment of pets, and her bookshelves full of keepers.