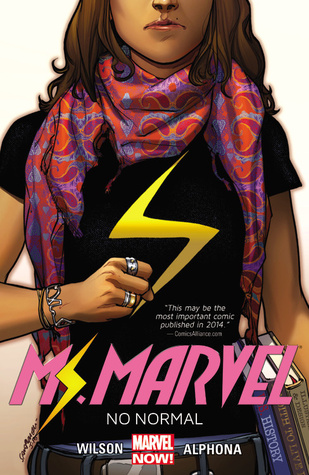 Kamala Khan is an ordinary girl from Jersey City — until she's suddenly empowered with extraordinary gifts. But who truly is the new Ms. Marvel? Teenager? Muslim? Inhuman? Find out as she takes the Marvel Universe by storm!
When Kamala discovers the dangers of her newfound powers, she unlocks a secret behind them, as well. Is Kamala ready to wield these immense new gifts? Or will the weight of the legacy before her be too much to bear? Kamala has no idea, either. But she's comin' for you, New York!
It's history in the making from acclaimed writer G. Willow Wilson (Air, Cairo) and beloved artist Adrian Alphona (RUNAWAYS)! Collecting MS. MARVEL (2014) #1-5 and material from ALL-NEW MARVEL NOW! POINT ONE #1.
My Thoughts:
I've said often enough that I don't particularly enjoy reading comics, and I'm far more inclined to reading Manga. And a lot of it had to do with the style, so I was happily surprised to see a change in the art direction of Marvel's with Ms Marvel. And that it was something that I could get behind.
In this newest incarnation, Kamala Khan, a high school student obsessed with superheroes, gets to become her own idol, Ms Marvel, due to some strange happenings hitting her town. She quickly gets in over her head as she learns to navigate her new powers (which are a form of shape-shifting as far as I understand from the first volume No Normal - which compiles the first 5 issues of the series).
I really like Kamala, who struggles to be a good friend and a good daughter, and also live her superhero dreams. I loved the person she confessed her secret identity to, it made so much sense that she would go to that person for help. I really liked her relationship with her friends, it felt very real.
All in all, I'm really excited to keep reading
Ms Marvel
.